As a HubSpot Gold Certified Agency, Room 214 is always keeping up to date on the latest HubSpot solutions. Looking at some of their latest software, Conversation Intelligence, we rounded up our thoughts below:
When was the last time you actually retained every bit of information from a sales pitch/sales call you either gave or heard? Impossible, right?

Between the frantic prepping, reviewing of notes, planning for next steps and all related follow-up -- much of the actual content in any business meeting can get lost in the shuffle.

It can be tough to remember the nuances that make or break a sales pitch. What if you had a repeat opportunity to identify where things could have gone better, recall forgotten information, requests, etc? And how many times have you thought about a better way to use a recorded sales call for training others? With HubSpot, now you can.
What Is HubSpot's Conversation Intelligence?
Last month, HubSpot announced the release of their newest tool, "Conversation Intelligence" (CI). The marketing, sales, customer service, and CRM giant now helps you record, transcribe, search and archive every word of every conversation you have via HubSpot's inherent call functionality OR through Zoom.
You no longer have to rely solely on your memory or notes. The effectiveness of your sales (or coaching of) calls has an entirely new level of potential.
Our favorite part: the tool allows your team to search specific keywords within the transcripts. Rather than dreading the task of reviewing multiple, 45-minute calls, you can do a word search that fast-forwards straight to the section of the recording you want to review.

That's right, no more trying to figure out where in the call someone mentioned something. You can even get a count of how often something was mentioned to identify trends or points/words worth paying more attention to.
We've gotten to know the ins-and-outs of Conversation Intelligence over the past few weeks, read on for a breakdown of how to use the software:




Watch HubSpot's demonstration video on Conversation Intelligence:

Do you have certain words you're always listening for in your conversations with prospects and customers? Create a keyword property feature that continuously tracks your keywords in all transcripts. See how the feature works below.


The top four advantages of Conversation Intelligence:
Call Capture - A single location for your teams' automatically recorded calls.

Call Transcription - HubSpot's call transcriptions work simultaneously with integrations like Zoom—allowing you to access more knowledge with the tools you're already using.

Coaching - Use recorded calls to effectively train employees. HubSpot gives managers the ability to quickly listen to, find, and share calls intuitively. Leaving notes and giving feedback that results in learning is easier.

Analyze & Report - Within your team's call history, find appropriate keywords and phrases that your team may need to further add or eliminate to their conversations in the future.
If you want to learn more about how searching for keywords can help with report building, watch the full video below: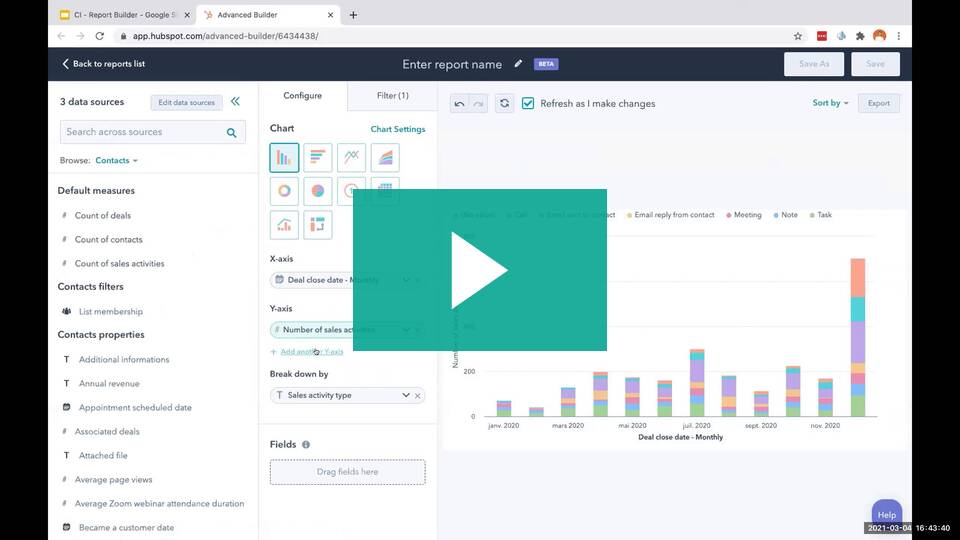 Conversation Intelligence: Keyword Events Reporting
Conversation Intelligence is a potential game-changer for sales training. But we actually see the new tool as having applications far beyond the sales realm. For example, customer service teams can record conversations with thrilled and unhappy customers alike. Noticing patterns in these conversations can help address concerns before they become bigger problems, and focus on delivering greater levels of service.
How does HubSpot Conversation Intelligence compare to other CI Competitors?
There are a few companies already established in what we might consider the same conversation intelligence category: Gong, Chorus, and Insight Squared to name a few. All of these companies complete the same task of giving you a transcribed dialogue with convenient operating functions. They are point-solution companies. Of all, the most respected competitor is arguably Gong. See how Gong stacks up to HubSpot's offering below (and keep in mind pricing is always subject to change):
Yet Another Potential Value to HubSpot's Conversation Intelligence:
Given our own focus on customer insights and interviews based on Harvard's Jobs-to-be-done framework, we can't help but think about the value this tool could contribute to transcribing customers' buying journeys, routines, and thought processes.
If you are like us, and believe your customers hold the secret to your growth, you can probably come up with your own ideas on how to use this tech for curating the insights that matter most. Of course, learning how to interpret insights, and actually pulling them through to cohesive plans of action is where real growth begins (see the Coherence Method to learn more on that).

Please get in touch to learn more about HubSpot or the Coherence Method.